Back to school shopping is something I have ALWAYS looked forward to.   Even when I was in school.  And college.  And fall work clothes shopping.  You get the idea!
But once I had my own two daughters it was game on!!
Hanna Andersson knits, Lands End basics, the adorable odd pieces from here and there.  Stride Rite for the shoes (always).  L.L. Bean for backpacks and outerwear.  There was a routine and consistency to my shopping.
Enter Middle School…. aka OZ
I made a deal with Coco –  lets wait until  you start school and see what 'everyone' is wearing before we do the bulk of our shopping.  Let's just do the basics.  While this could backfire on me…  I think it will save me cash in the end on unworn and uncool clothes.
However, it is a whole new world just for basics.  Justice – ummm no that is SO elementary school.
The mall has become a 'yellow brick road'.  She just seems to know how to get from store to store.
OH MY!!
Jeans have to come from Hollister now  (OK, they did have a good sale … jeans for $20.00 and she LOVES them.)
Shoes – the days of cute Merrill Jungle Mocs (smart, safe and weatherproof) GONE.
 Now, it's black converse high tops.  
And Skinny Jeans from Abercrombie (who decided these were a good idea?).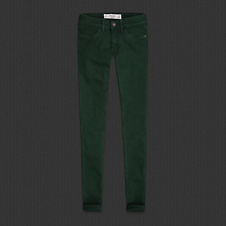 Those she had to contribute money too – which she did – willingly!  I spend a lot of time sitting in the 'approving chair' outside the changing rooms these days.  Picking and choosing what is appropriate vs. what is not.
But the worst of it… she looks the part.  She has grown so much in the past year – and changed.  Like almost a teenager changed.  She even manages to get a trip into 'The Emerald City' Sephora (her proclaimed most favorite store in the mall) every time we go.  Do we buy things at Sephora? Not really, but I see those days dwindling.
And honestly – I love it.  I have enjoyed the time we have spent shopping together.  I realize those days are dwindling soon too.  I find myself reminiscing about my early teen years.  It is hard not to when most of the clothes in the stores are retro 1980s and now I am seeing a LOT of early 1990s stuff coming back too.  I think I am safe as I follow Oprah's rule:  If you wore it the first time, you cannot wear it the second time!  
SO, what is an almost 45 year old woman to do when you are in these stores all the time?  Stick to the old lady stores!  Banana Republic, Talbots, JJill, with an occasional JCrew & Gap- thrown in is my plan.  However, the accessories are fun!! Shhhhh
Sharing at: